Thursday, February 6th, was an eventful day for our ALT, Bryan. In the morning, he paid a visit to Nagominosato, the nursing home on the island, where the island's energetic elderly ladies gather every Thursday. For today's visit, Bryan introduced a few basic English greetings, as well as English words for a few things that can be seen on the island. But after introducing the expressions and words that Bryan has prepared, they asked for more! Together, they brainstormed, and made a detailed list of what expressions they wanted to learn in English for the next visit!
After this, the kids from the preschool came to visit the home as well! They sang and danced for everyone there, then the kids, and the elders took turns playing a ball toss game together. What an exciting day at Nagominosato!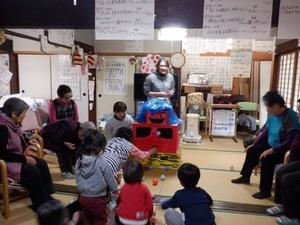 Later that day, Bryan joined the 3rd and 4th grader's English class. But this time, the 1st and 2nd graders also joined in! It was one big elementary school English session! For today's lesson, the students learned the names of animals in English. After reviewing the names with Bryan, the students played a few games to help memorize all the names of the animals.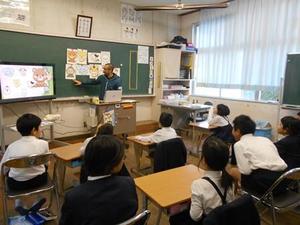 The most popular of games was hands-down the card touch game! Pun intended! When the name of an animal was called, the students had to slap the card with that animal before their opponent. After many really close, fierce matches, it was clear that the students had memorized all the English words!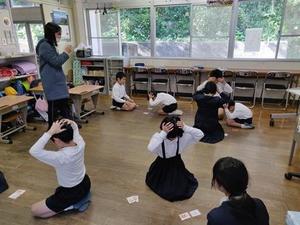 After all the activities were finished, it was time for Bryan to go! Thank you for coming to the class, it was very fun!