Yesterday, ALT Bryan came to our preschool for another day of Eigo Asobi! To start the day off, we danced! With our magic dusters in hand, we danced and cleaned our preschool! After the dancing was over, Bryan first taught us how to say the date, and how the weather was in English. Wednesday, January 29th was a little bit tricky to say, but after some practice, we were all able to say it well! It was raining, so we also practiced how to say rainy!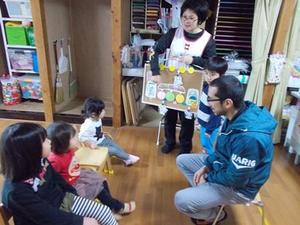 The day's theme was Japanese New Year's games, so first up was Fukuwarai. Fukuwarai, or 'Lucky Laugh' in English, is a children's game where the player attempts to place facial features onto a blank face in the correct positions while blind folded. It's trickier than it sounds, and we all made really silly faces. Our laughter will surely bring us great fortune this year. Not only did Bryan teach us the English words for the different facial features, but he also joined in for a round!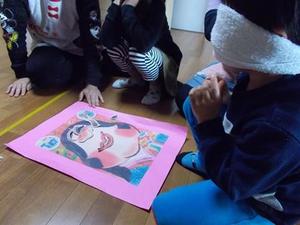 After our lucky laughs, we started our second game of the day, koma-mawashi, or top spinning! We all made some tops out of CDs and marbles, and after decorating them, competed to see whose top would spin the longest! Unlucky for Bryan, he came in last place both rounds. Maybe next time, champ!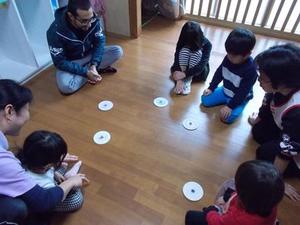 Then we all came together to decorate a large square, then we made it into a big top using half of a gatcha capsule! Thanks to everyone's artistic skills, we made a really neat top! One that was so big, we worked in groups of two to spin it. With some practice, every team managed to spin the top.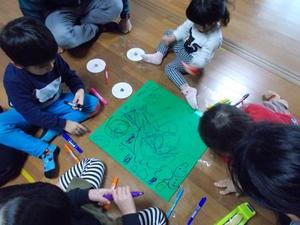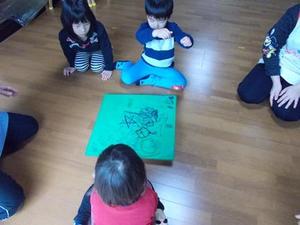 Nice team work everyone! But after playing with the tops, it was time for Bryan to go. Thank you very much for coming, see you next time!